CREATIVE AND INSPIRING EDUCATIONAL BUILDINGS
Both children and adults spend a lot of time in nursery and school buildings, so we think it is important to create a beautiful environment that brightens up everyday life.
Using striking colours and fun illustrations is a great way to create exciting educational buildings. The Nickby Heart school in Finland is an attractive school where the architects have done precisely this and created a building as playful on the outside as the children are on the inside. On the façade they have combined Steni Colour panels and Steni Vision with printed surfaces.
The façade of Nickby Heart school is a work of art, with stylish illustrations and vibrant colours.
INFINITE DESIGN POSSIBILITIES
Educational buildings are often a meeting place for the local community that take up a lot of space. And while strong, playful and "stand-out" colours are indeed wonderful, architecture that blends in with the surroundings can be just as attractive. Steni gives you that freedom of choice – there are endless possibilities of visual expression.
For Kongsvinger lower secondary school the architects were so inspired by the surrounding natural environment that they included it in the façade of the school building. They did this by combining Steni Colour panels, in natural green tones, with wood. They have also given the façade a personal stamp by printing quotes from the students on the wall.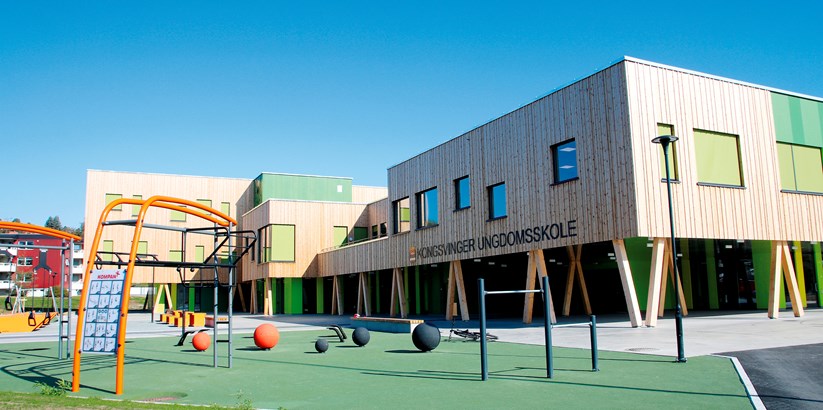 Steni panels and pine combine to give Kongsvinger lower secondary school a beautiful and modern façade.
SOLID FAÇADES THAT CAN WITHSTAND ANYTHING KIDS THROW (OR DRIVE) AT THEM
Steni's façade panels are robust and can withstand rough treatment. This was proven when a nursery school let children and adults test the façade by crashing moon buggies straight into the wall! The children had destroyed other façade products with their daily antics but the Steni panels stood firm. The school therefore replaced the façade with Steni panels, which come with a 60-year functional warranty.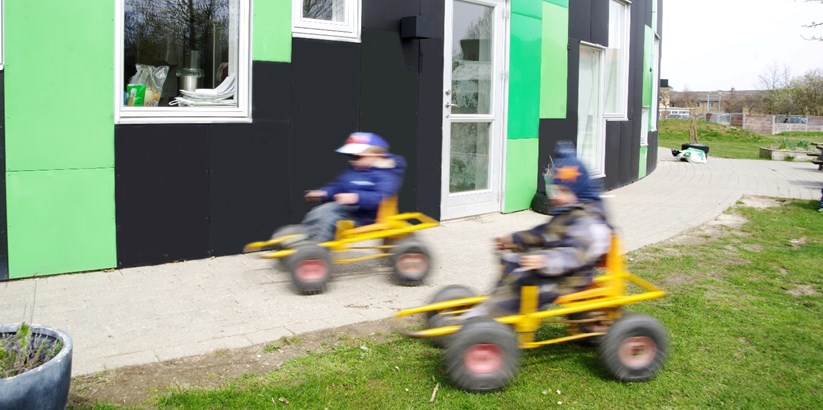 Everyone had a great time crashing buggies into the nursery wall!
The "Hjørnet" youth club in Roskilde also knows how solid Steni's façade panels are. They had to replace their original façade since it could not withstand ball games. The Steni panels are made from fibre-glass-reinforced stone composite, which makes them very strong and guarantees a long service life. The refurbishment extended the life of the façade from 40 to 60 years and the youth club has also reduced its maintenance costs by switching to Steni. 
"The Steni panels have been jumped and stamped on and they can cope with it, no problem. You can safely stand on them – they creak a bit but they don't break."​ SABINA HOLSTEIN, ARCHITCECT AND CONSULTANT , ROSKILDE MUNICIPALITY​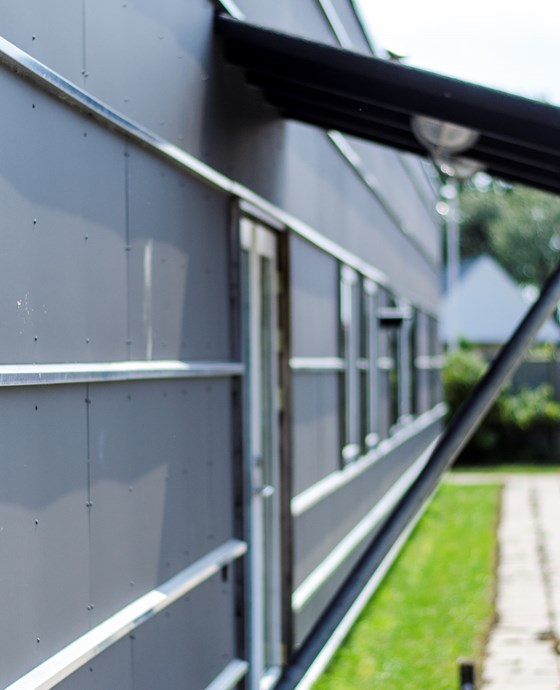 At "Hjørnet", fibre-cement façade panels have been replaced with more solid stone composites.